Fact #710: January 16, 2012
Engine Energy Use for Heavy Trucks: Where Does the Energy Go?
As with light vehicles, heavy trucks also have significant energy losses. The losses shown below are for a typical combination tractor-trailer, but these losses will vary depending on the weight, shape, and size of the truck, and the type of driving (the truck's duty cycle). On the Interstate highway, aerodynamics plays a much larger role in truck energy losses than in city driving. Loss of inertia due to braking and energy losses due to auxiliary loads are greater in city driving than on the highway. There is great potential to improve heavy truck fuel efficiencies with advanced technologies that address these losses.
Share of Energy Losses for a Typical Combination Tractor-Trailer on Level Road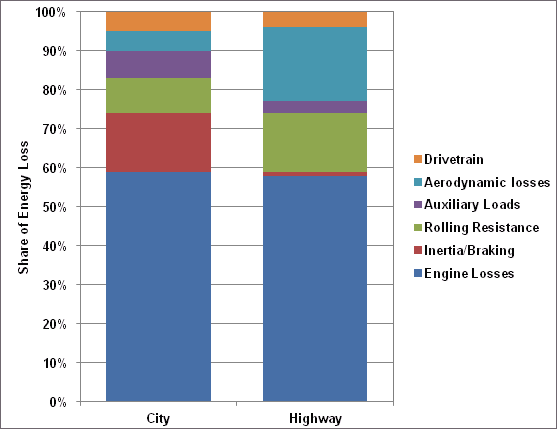 Supporting Information