Fact #713: February 6, 2012
Light Vehicle Sales Continue to Recover
In 2000, light vehicle sales reached a peak of more than 17 million. Sales remained above 16 million units until 2007. Due to economic conditions, sales dropped off sharply in 2008 and reached a low in 2009 of 10.4 million units for a decline of about 40% compared to sales levels in 2000. Since 2009, light vehicle sales have begun to recover with sales reaching 12.7 million units in 2011.
U.S. Light Vehicle Sales, 2000-2011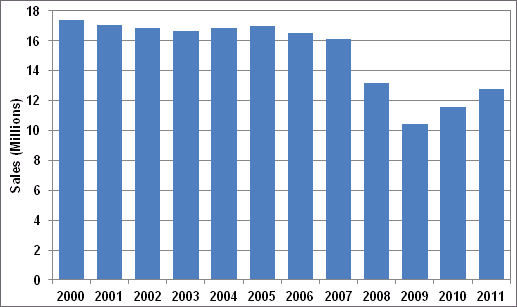 Supporting Information
U.S. Light Vehicle Sales, 2000 - 2011
Year
Sales (Millions)
2000
17.4
2001
17.1
2002
16.8
2003
16.6
2004
16.9
2005
16.9
2006
16.5
2007
16.1
2008
13.2
2009
10.4
2010
11.6
2011
12.7

Source: Ward's Communications