Fact #723: April 16, 2012
Japan's Earthquake and Tsunami Resulted in Major Losses for Japanese Automakers
The 9.0 magnitude earthquake and subsequent tsunami that struck northern Japan on March 11, 2011 resulted in severe disruptions and losses for Japan's seven major automakers. Automotive News contacted individual companies to collect data on the losses resulting from the event. For the one year period following the disaster, Toyota reported the greatest loss in financial terms and in lost output totaling nearly 1 million units. Through March 31, 2012, the earthquake and tsunami cost the seven largest automakers in Japan an estimated 5.6 billion dollars. More losses will follow as actions such as plant relocations and manufacturing changes continue to take place to limit disruptions from future disasters.
Lost Output for Japan's Seven Major Automakers, March 11, 2011 – March 31, 2012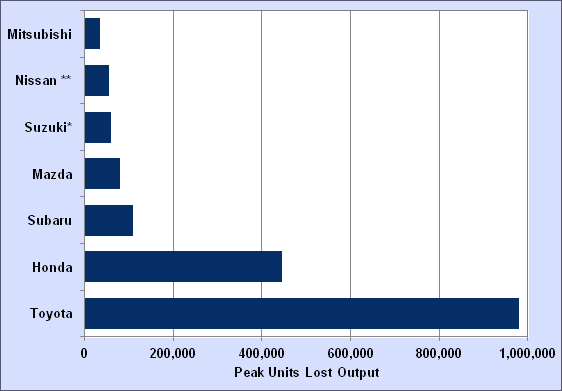 Financial Losses of Japan's Seven Major Automakers, March 11, 2011 – March 31, 2012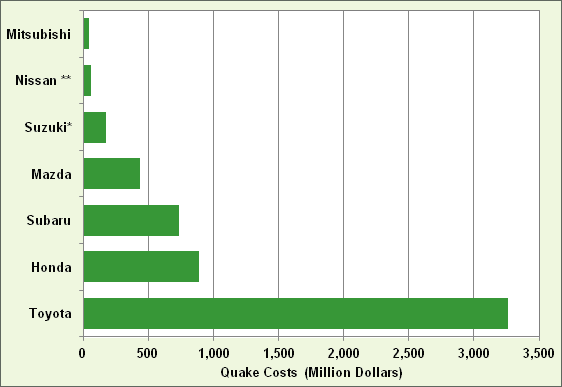 Supporting Information
Company
Lost Output
Quake Costs
(Million Dollars)
Toyota
980,000
$3,260
Honda
446,000
$889
Subaru
109,000
$733
Mazda
80,000
$433
Suzuki*
59,000
$177
Nissan**
55,000
$60
Mitsubishi
35,000
$46

Note: Results translated at an exchange rate of $1=¥82.87, the rate on March 11, 2011, the day of the disaster.
* Suzuki does not disclose lost production figures. But it had reported losing 59,000 units through April 9. Global output rose 13 percent in the year ended March 2011. But Suzuki expects a drop of 2 percent in current fiscal year.
** Nissan provides lost production only for March 2011, no figures for lost output since April 2011. But full, unrestricted production was restored only in September 2011. Nissan says it has recovered all lost output.

Source: Crain Communications, Automotive News, March 12, 2012, p. 50. [As reported to Automotive News by individual companies.]