Fact #732: June 18, 2012
Days to Turn Trend by Vehicle Class
"Days to turn" is an automotive industry term that refers to the number of days that vehicles stay in dealer inventories before they are sold (i.e., the time a vehicle stays on the dealer's lot). There are many factors that influence this number including fuel prices, the economy, and supply disruptions. The figure below shows that the days to turn by vehicle class were closer together in November 2010 when light vehicle sales were depressed across all classes and fuel prices were under $3 per gallon. As light vehicle sales recovered, there was greater variability in the pace of sales among the different vehicle classes.
Fuel prices can affect the vehicle classes in different ways. The red line at the bottom of the figure shows a rise in fuel prices from November 2010 through May of 2011. After May 2011, sales of subcompact and compact cars were quicker (fewer days to turn) while large cars, large sport-utility vehicles (SUV's), and large trucks stayed on the dealer's lot longer. The sharp decline in days to turn for cars around March 2011 probably reflects the earthquake and tsunami that struck Japan which constrained supplies, limited dealer inventories and shortened days to turn, particularly among the smaller cars produced in Japan.
Days to Turn by Vehicle Class, November 2010 – April 2012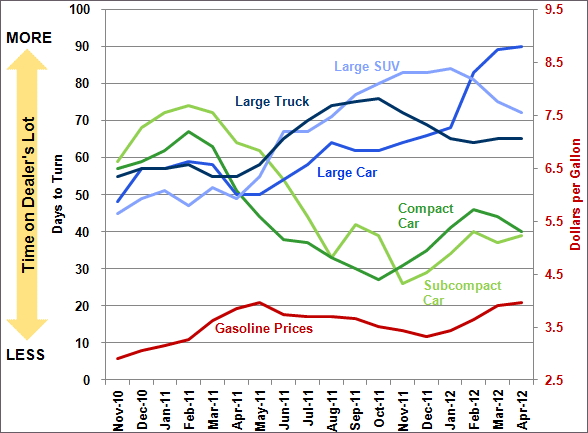 Supporting Information
Days to Turn by Vehicle Class, November 2010 – April 2012
Month-Year
Subcompact Car
Compact Car
Large Car
Large SUV
Large Truck
Gasoline Prices
Nov-10
59
57
48
45
55
$2.91
Dec-10
68
59
57
49
57
$3.05
Jan-11
72
62
57
51
57
$3.15
Feb-11
74
67
59
47
58
$3.26
Mar-11
72
63
58
52
55
$3.62
Apr-11
64
51
50
49
55
$3.85
May-11
62
44
50
55
58
$3.96
Jun-11
54
38
54
67
65
$3.74
Jul-11
44
37
58
67
70
$3.71
Aug-11
33
33
64
71
74
$3.70
Sep-11
42
30
62
77
75
$3.67
Oct-11
39
27
62
80
76
$3.51
Nov-11
26
31
64
83
72
$3.44
Dec-11
29
35
66
83
69
$3.33
Jan-12
34
41
68
84
65
$3.44
Feb-12
40
46
83
81
64
$3.64
Mar-12
37
44
89
75
65
$3.91
Apr-12
39
40
90
72
65
$3.96

Sources:
Days to Turn: Edmunds.com
Gasoline Price: Energy Information Administration