Fact #743: September 3, 2012
Used Vehicle Sales are Three Times Higher than New Vehicle Sales
From 1990 to 2008, the number of used vehicles sold was between 2.5 and 3 times higher than new vehicle sales. During the recent recession, both new and used vehicle sales declined to sales volumes not seen since the 1980's. Used vehicle sales, however, in 2009 and 2010 were more than three times that of new vehicles for the first time.
New and Used Light Vehicle Sales, 1990 - 2011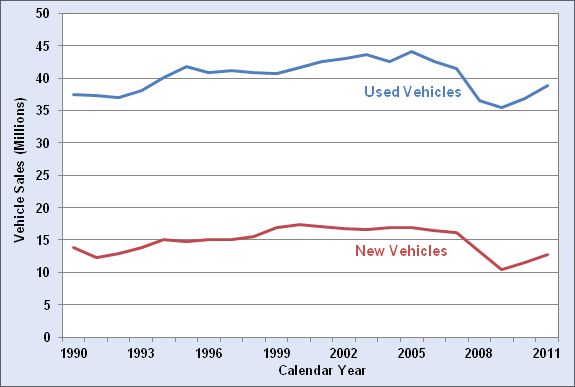 Supporting Information
Light Vehicle Sales (Millions)
Year
Used Vehicles
New Vehicles
Ratio of Used Vehicles /
New Vehicles
1990
37.5
13.9
2.7
1991
37.3
12.3
3.0
1992
36.9
12.9
2.9
1993
38.1
13.9
2.7
1994
40.1
15.1
2.7
1995
41.8
14.7
2.8
1996
40.8
15.1
2.7
1997
41.2
15.1
2.7
1998
40.8
15.5
2.6
1999
40.7
16.9
2.4
2000
41.6
17.4
2.4
2001
42.6
17.1
2.5
2002
43.0
16.8
2.6
2003
43.6
16.6
2.6
2004
42.5
16.9
2.5
2005
44.1
16.9
2.6
2006
42.6
16.5
2.6
2007
41.4
16.1
2.6
2008
36.5
13.2
2.8
2009
35.5
10.4
3.4
2010
36.9
11.6
3.2
2011
38.8
12.7
3.0
Source: Ward's Communications