Fact #797: September 16, 2013
Driving Ranges for Electric Vehicles
The figure below shows the Environmental Protection Agency (EPA) driving ranges for electric vehicles (EVs) offered for the 2013 model year (MY). The Tesla Model S has the longest range of any EV offered, ranging from 139 miles for the 40 kilowatt-hour (kW-hr) battery pack model to 265 miles for the 85 kW-hr battery pack model. Battery capacity is important because greater capacity generally means greater range. However, the relationship between battery capacity and range is a complicated one. In order to protect the battery, EVs do not allow for the full use of the battery pack. Therefore, the usable amount of the battery capacity can be significantly less than the full battery capacity. This varies by manufacturer and the battery management system of the vehicle.
Range calculations based on manufacturer-stated battery capacities will not directly match EPA-stated ranges that were obtained through actual vehicle testing. Because there is no standard for measuring battery capacities that is observed by all manufacturers, and vehicles manage their batteries differently, the EPA tests all EVs at their National Vehicle and Fuel Emissions Laboratory in Ann Arbor, Michigan to determine vehicle range and efficiency values.
Driving Ranges for MY 2013 Electric Vehicles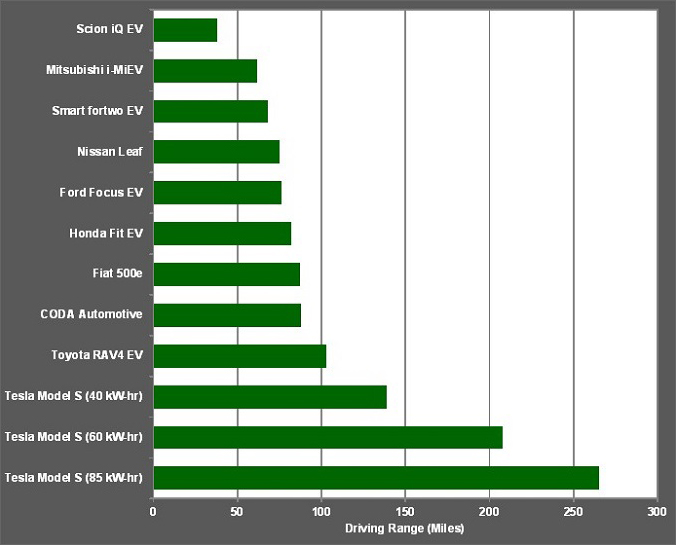 Notes: Electric driving range based on Environmental Protection Agency laboratory testing. These data may not directly match the vehicle manufacturer's stated range.
The Tesla Model S with a 40 kW-hr battery capacity has been discontinued.
Supporting Information
Driving Ranges for EVs
Model Year 2013 Vehicle Make/ Model
Estimated Driving Range (Miles)
Tesla Model S (85 kW-hr)
265
Tesla Model S (60 kW-hr)
208
Tesla Model S (40 kW-hr)
139
Toyota RAV4 EV
103
CODA Automotive
88
Fiat 500e
87
Honda Fit EV
82
Ford Focus EV
76
Nissan Leaf EV
75
Smart fortwo EV
68
Mitsubishi i-MiEV
62
Scion iQ EV
38
Source: U.S. Department of Energy and U.S. Environmental Protection Agency, Fuel Economy Website. Website accessed August 7, 2013.