U.S. Department of Energy - Energy Efficiency and Renewable Energy
Vehicle Technologies Office
Fact #435: July 31, 2006
Where Do Scrapped Tires Go?
About 80% of the 290 million tires that were scrapped in 2003 were used in end-use markets instead of going to a landfill or other unknown disposal. Forty-four percent of the scrap tires were used as tire-derived fuel, mainly in the industrial sector. The civil engineering category includes tire shreds used in road construction and other construction uses. Ground rubber applications include playground and other sports surfacing.
U.S. Scrap Tire Disposition, 2003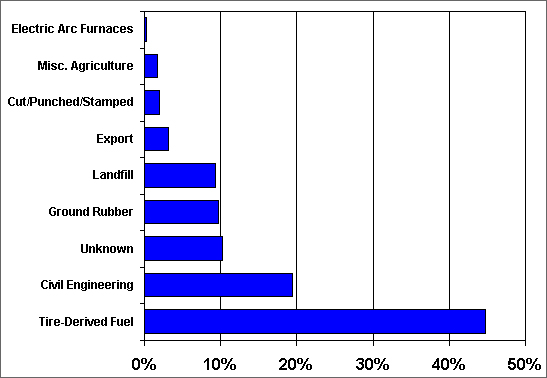 Supporting Information
U.S. Scrap Tire Disposition, 2003
Share of Total Tires Scrapped
Tire-Derived Fuel
44.7%
Civil Engineering
19.4%
Unknown
10.3%
Ground Rubber
9.7%
Landfill
9.3%
Export
3.1%
Cut/Punched/Stamped
2.0%
Misc. Agriculture
1.7%
Electric Arc Furnaces
0.2%
Total Tires Scrapped
290 million

Source:Rubber Manufacturers Association, U.S. Scrap Tire Markets, 2003 Edition, July 2004, Figure 2.0.
Return to 2006 Facts of the Week