U.S. Department of Energy - Energy Efficiency and Renewable Energy
Vehicle Technologies Office
Fact #449: December 25, 2006
Biodiesel to Conventional Diesel: An Emissions Comparison
Biodiesel is a clean-burning substitute for conventional diesel fuel that can be used in today's diesel engines. An Environmental Protection Agency study shows that emissions from B100 (100% biodiesel) and B20 (20% biodiesel/80% conventional diesel) are significantly lower than from conventional petroleum-based diesel, with the exception of nitrogen oxides (NOx).
Difference in Emissions from B100 and B20 to Conventional Diesel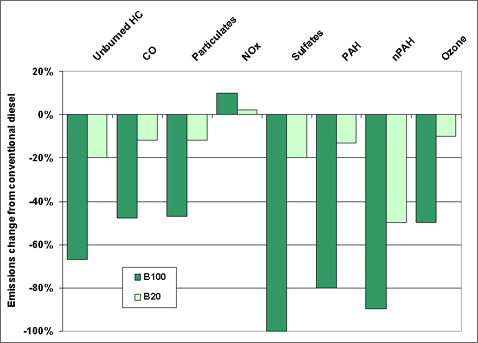 Supporting Information
Average Biodiesel (B100 and B20) Emissions Compared to Conventional Diesel
Emission Type
B100
B20
Emissions in relation to conventional diesel
Regulated Emissions
Total Unburned Hydrocarbons (HC)
-67%
-20%
Carbon Monoxide (CO)
-48%
-12%
Particulate Matter
-47%
-12%
Nitrogen Oxides (NOx)
+10%
+2%
Non-Regulated Emissions
Sulfates
-100%
-20%a
PAH (Polycyclic Aromatic Hydrocarbons)b
-80%
-13%
nPAH (Nitrated PAH's)b
-90%
-50%c
Ozone potential of speciated HC
-50%
-10%

Source: Oak Ridge National Laboratory, Biomass Energy Data Book: Edition 1, ORNL/TM-2006/571, September 2006, p. 55. Original source: "A Comprehensive Analysis of Biodiesel Impacts on Exhaust Emissions."
a Estimated from B100 result.
b Average reduction across all compounds measured.
c 2-nitroflourine results were within test method variability.
Return to 2006 Facts of the Week