U.S. Department of Energy - Energy Efficiency and Renewable Energy
Vehicle Technologies Office
Fact #505: February 11, 2008
Developing Economies are Rapidly Increasing Their Petroleum Consumption
Although the United States still consumes the most petroleum by volume, developing economies like those of China and India have experienced a dramatic increase in petroleum consumption in recent years. In contrast, most of the more established economies like those of Western Europe have shown little increase in petroleum consumption during the same period.
Percent Change in Petroleum Consumption, 1990-2006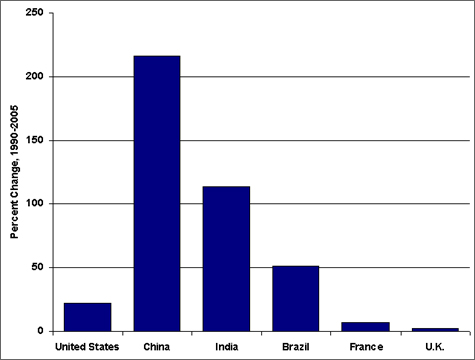 Supporting Information
Petroleum Consumption for Selected Countries in million barrels per day
United States
China
India
Brazil
France
United Kingdom
1990
16.99
2.30
1.17
1.47
1.83
1.78
2006
20.69
7.27
2.50
2.23
1.96
1.83
% Change
21.76
216.22
113.50
51.77
7.16
2.81

U.S. Department of Energy, Energy Information Administration. World Petroleum Consumption, Most Recent Annual Estimates,1980-2006.
Return to 2008 Facts of the Week