U.S. Department of Energy - Energy Efficiency and Renewable Energy
Vehicle Technologies Office
Fact #535: September 8, 2008
Vehicle Miles of Travel (VMT) Declines in 2008
The first five months of 2008 all experienced declines in VMT compared with those same months in 2007. According to Federal Highway Administration data, Americans drove 9.6 billion fewer vehicle miles in May 2008 than in May 2007. This is the single largest drop in VMT for any May, which typically reflects increased travel due to Memorial Day vacations and the beginning of summer. It is the third largest drop in the 66 years that this data has been recorded.
Change in Individual Monthly Travel 2007 vs. 2008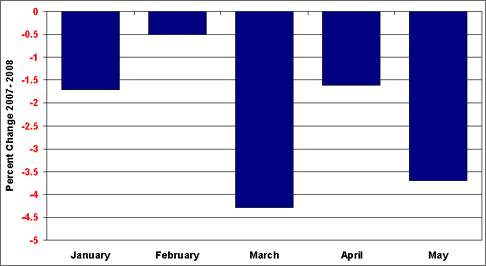 Supporting Information
Percent Change in VMT, 2007-2008
Month
Percent Change,
2007-2008
Jan
-1.7
Feb
-0.5
Mar
-4.3
Apr
-1.6
May
-3.7

Source:U.S. Department of Transportation, Federal Highway Administration, Traffic Volume Trends (PDF 154 KB), May 2008. Download Adobe Reader.