U.S. Department of Energy - Energy Efficiency and Renewable Energy
Vehicle Technologies Office
Fact #536: September 15, 2008
Average Used Car Prices Up and Used Light Truck Prices Down
The average wholesale price for all used light trucks dropped a total of 16.4% with full sized pickups dropping nearly 30%. The average wholesale price for used cars grew by 2.1% over the previous June. Sporty and upscale cars were the only car segments that experienced declines.
Average Used Car Prices Up and Used Light Truck Prices Down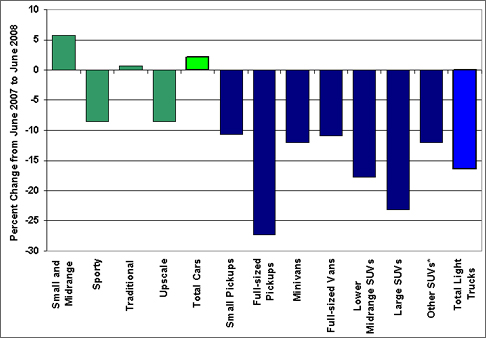 Average Wholesale Used-Vehicle Prices, June 2007 and 2008
Vehicle Classification
Percent Change
May 2007 - May 2008
Cars
Small and Midrange
5.8
Sporty
-8.6
Traditional
0.7
Upscale
-8.6
Total Cars
2.1
Light Trucks
Small Pickups
-10.6
Full-sized Pickups
-27.3
Minivans
-12.1
Full-sized Vans
-10.9
Lower Midrange SUVs
-17.7
Large SUVs
-23.2
Other SUVs*
-12
Total Light Trucks
-16.4

Notes: Vehicle classification are based on Automotive News Market Classifications.
* Includes standard and premium crossovers and small, upper midrange and premium SUVs.
Source: Crain Communications, Automotive News, July 28, 2008, Page 26.