Retooling Today's Engines for the Hydrogen Economy
Hydrogen-Powered Internal Combustion Engines Gain Momentum in the Quest to Displace Petroleum as the Primary Transportation Fuel
As the United States works toward developing a hydrogen economy, interim technologies will be needed to bridge the gap between today's gasoline-powered internal combustion engine (ICE) vehicles and the ultimate goal of hydrogen-powered fuel cell vehicles. The U.S. Department of Energy's (DOE's) FreedomCAR and Vehicle Technologies (FCVT) Program has identified hydrogen-powered ICE vehicles as an important mid-term technology on the path to the hydrogen economy.
Several vehicle manufacturers are exploring the development of hydrogen-powered ICEs as a means of advancing the use of hydrogen and hydrogen-blend fuels before fuel cells become readily available. While these engines have certainly evolved from their 19th-Century ICE forebears in many important ways, they still incorporate much of the same fundamental technology.
Why Hydrogen?
Why all the interest in hydrogen-powered ICEs? "Part of the attractiveness of the hydrogen ICE is that it allows a rapid deployment of hydrogen-fuel vehicles, helping to make a hydrogen refueling infrastructure economically viable and cost-effective," says Bob Larsen, director of the Center for Transportation Research at Argonne National Laboratory. "Because hydrogen ICEs can be manufactured more cheaply than fuel cells, only about 15% more than conventional gasoline engines, and we already have the production facilities in place to make them by the millions, these may be the first vehicles that take us into the hydrogen economy — at least until fuel cell vehicles are proven reliable and affordable."
One of the benefits of hydrogen-powered ICEs is that they can run on pure hydrogen or a blend of hydrogen and compressed natural gas (CNG). That fuel flexibility is very attractive as a means of addressing the widespread lack of hydrogen fueling infrastructure in the near term. Hydrogen-powered ICEs also have many operating advantages. They perform well under all weather conditions, require no warm-up, have no cold-start issues (even at subzero temperatures), and are highly fuel efficient — up to 25% better than conventional spark ignition engines.
What's Different?
What's different about an ICE that runs on hydrogen as compared with one that runs on gasoline? Surprisingly, not that much. Because hydrogen has a much lower energy density and burns much faster and hotter than gasoline, compression ratios can be increased, and more air is mixed with the fuel to keep combustion temperatures and exhaust emissions down. Most hydrogen engines run lean (air-to-fuel ratio of 30:1 or more), and as a gaseous fuel, hydrogen displaces oxygen needed for combustion, so a supercharger is often used to improve the engine's power output. Some differences depend on whether the vehicle uses gaseous or liquid hydrogen. In either case, hydrogen tanks require more space than gasoline tanks. That's because hydrogen delivers a lower energy density and smaller driving range than does a comparable amount of gasoline. Other issues that affect space allocation and fuel tank placement also depend on the type of hydrogen being used: liquid hydrogen tanks require considerable insulation, whereas gaseous hydrogen tanks must tolerate high pressure — up to 700 bar (10,000 psi). In the gaseous hydrogen scenario, a chiller is needed to transform gaseous hydrogen into cryogenic liquid hydrogen.
Driving range is perhaps the biggest hurdle for hydrogen-powered ICEs using currently available fuel tank designs, because it's very difficult to store enough compressed hydrogen onboard a car or light truck to give it a driving range equivalent to that provided by a standard tankful of gasoline. The situation with liquid hydrogen is better, but even these tanks take up considerably more room than gasoline tanks plus liquid hydrogen has issues with boil-off of fuel during extended periods of inactivity. Researchers are working on materials that could lead to higher-density hydrogen storage capability, but those solutions are still years away. Limited driving range plus the energy density problem have led to increased interest in hydrogen-CNG blend fuels for ICEs. Because CNG-powered vehicles have been around for several decades, their technologies and fueling infrastructure are more mature and more readily adapted to a wide range of vehicles. In addition, adding some CNG improves the energy density of the fuel considerably.
One thing is certain: internal combustion engines clearly offer potential short- and mid-term opportunities to implement hydrogen as a transportation fuel, and they could be a significant help to building momentum for a hydrogen fueling infrastructure. That combination could help form the needed bridge between today's gasoline-powered ICEs and tomorrow's hydrogen-powered fuel cell vehicles.
Where We're Heading
As it turns out, the notion of running internal combustion engines on hydrogen isn't really so new. German automaker BMW was considered a maverick when it built its first modern hydrogen-powered ICE prototype in the 1970s. In 2000, nearly 30 years later, the company introduced a prototype version of the hydrogen-powered BMW 750hl, followed by the dual-fuel (hydrogen and gasoline) 745h in 2001. In 2001, the company also unveiled a hydrogen-powered Mini Cooper concept car. BMW has recently published papers showing impressive technical advances from hydrogen-fueled engines and that the theoretical efficiency of direct-injected hydrogen engines is above 60% — about the same as a fuel cell.
What's especially exciting about the BMW approach is the company's use of solar power to produce liquid hydrogen as part of the BMW Clean Energy System. Working together with several industrial partners, BMW has developed and patented a unique hydrogen dispensing system, which the company has installed and is testing in Munich, Germany; Milan, Italy; and Oxnard, California. This system does not rely on petroleum-based feedstocks, but uses solar power to extract hydrogen from water instead, eliminating one of the potential negatives of hydrogen — the amount of energy and resources used to produce it. If derived from carbon-based sources such as petroleum, coal, or natural gas, hydrogen loses some of its environmental friendliness.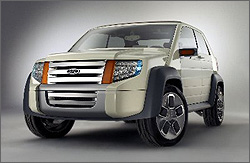 Ford Motor Company, one of the sponsors of DOE's FutureTruck competition, also sees promise in hydrogen ICE technology. The company's first modern hydrogen ICE automobile, the P2000, debuted in 2001, followed by the Focus-based H2RV in 2003. At the Detroit Auto Show in 2003, Ford introduced Model U, a concept hybrid hydrogen ICE sport-utility vehicle that showcases many new technologies. Model U incorporates a 2.3-liter, four-cylinder supercharged, intercooled hydrogen internal combustion engine, coupled with Ford's Modular Hybrid Transmission System.. It also offers enhanced fuel economy — the equivalent of 45 miles per gallon and about 300 miles of range — plus near-zero regulated emissions and a 99% reduction in carbon dioxide. The Model U draws from a number of Ford and Mazda engine designs, resulting in a powerful, fuel-efficient, zero-emissions vehicle.
The hydrogen ICE concept is so promising that it was the theme of technology development for some of the participants in the 2004 FutureTruck competition. The primary technology focus for the 2004 teams was hybrid vehicles that run on both electric motors and traditional liquid-fueled internal combustion engines, using biofuels such as E85 (85% ethanol, 15% gasoline) and B35 biodiesel (35% biodiesel, 65% petroleum-based diesel). Two of this year's teams took the hybrid concept even further, turning their Ford Explorer vehicles into hybrids that employed both electric motors and hydrogen-powered ICEs. One of the teams, Texas Tech University, won the ArvinMeritor Lowest Regulated Emissions Award with their hydrogen ICE hybrid electric vehicle. The team achieved results of 0.088 g/mi of carbon monoxide, and 0.117 g/mi of nitrogen oxides in the Federal Test Procedure (FTP) emissions testing.
On an even larger scale, California's South Coast Air Quality Management District is currently overseeing a demonstration project in which several hydrogen ICE vehicles and a hydrogen fueling infrastructure are being evaluated. In 2004, California Governor Arnold Schwarzenegger announced the start of the California Hydrogen Highway Network initiative, the goal of which is to "to support and catalyze a rapid transition to a clean, hydrogen transportation economy in California." A map of the state's current hydrogen fueling stations and related facilities is available.
As part of the FCVT Program's commitment to the hydrogen ICE concept, Argonne National Laboratory and Sandia National Laboratories are working with Ford to conduct applied combustion research on direct-injection hydrogen engines. Researchers will explore challenging hydrogen operating conditions, such as hydrogen's wide flammability limits, pre-ignition issues and knocking, optimum boost conditions and air-to-fuel ratio, and other ignition characteristics. Argonne researchers will also examine high speed and load conditions in an attempt to expand the operating range of engines operating on this exceptionally fast burning fuel.
During 2004, Argonne researchers have also been testing a Ford F-150 truck powered with a 50-50 hydrogen-CNG blend. To date, they've measured emissions, fuel economy, and particulates over the FTP and Highway Fuel Economy Test (HWFET). Researchers also ran the US06 Supplemental FTP and a modified New European Driving Cycle (NEDC) test to get a better picture of this vehicle's performance over a wider set of driving conditions. Particulate matter was also measured with the most sensitive instruments, such as a scanning mobility particle sampler and Argonne's TG-1 real-time laser-induced incandescence particulate measurement system. Researchers also investigated effects of water condensation in the exhaust gas on emission measurement. Water is the major constituent of a hydrogen-fueled engine's exhaust, overwhelming the low level of regulated exhaust emissions, and it presents unique measurement issues for researchers that have not been completely solved.
The truck powered with the hydrogen-CNG blend was tested in the chassis dynamometer cell of Argonne's Advanced Powertrain Research Facility. The truck performed well without any detected performance problems. Researchers found that exhaust emissions were low even at this truck's early stage of development, FTP and HWFET emissions results and fuel consumption results were repeatable from test to test, and particulate emissions could not be detected. Fuel economy results in three FTP and two HWFET tests averaged 14.3 and 21.6 miles per gallon, respectively.
In 2003, with funding from the FCVT Program, DOE's Advanced Vehicle Testing Activity (AVTA) and the Idaho National Engineering and Environmental Laboratory also tested a Ford F-150 truck fueled for one series of tests with 100% CNG, and for another series of tests with CNG blended with (a) 15% hydrogen and (b) 30% hydrogen. Tests performed included the Inspection and Maintenance Driving Cycle (IM240) test used for state emissions testing of light-duty vehicles and the Federal Test Procedure (FTP-75). AVTA's testing showed that although the CNG-hydrogen blends reduced harmful exhaust emissions, they also reduced engine power output, due to hydrogen's lower energy density (D. Karner and J. Francfort, "Hydrogen/CNG Blended Fuels Performance Testing in a Ford F-150 (PDF 1.2 MB) Download Adobe Reader," INEEL/EXT-03-01313, Idaho National Engineering and Environmental Laboratory, Nov. 2003.).