Solid State Energy Conversion
The Solid State Energy Conversion R&D activity is focused on developing advanced thermoelectric technologies for utilizing engine waste heat by directly converting it to useful electrical energy that could be used to power vehicle auxiliaries and accessory loads to help improve the overall fuel economy of passenger and commercial vehicles. In addition, use of thermoelectrics for more efficient vehicle occupant cooling and/or heating is explored.
Recovery of energy from the engine exhaust represents a potential for at least a 10 percent improvement in the overall engine thermal efficiency. Bulk semiconductor thermoelectric devices are currently 6 to 8 percent efficient, but recent developments in advanced thermoelectrics suggest a potential improvement to over 20 percent efficiency is possible.
Research Goals
The goal is to develop automotive applications of advanced thermoelectrics that will improve by at least 15 percent by 2020, the overall passenger and commercial vehicle fuel economy. More specifically,
By 2020, achieve at least 20 percent efficiency in advanced thermoelectric devices for direct energy conversion of engine waste heat to electricity.
Research in this area also supports the overall engine efficiency goals of the U.S. DRIVE Partnership and the 21st Century Truck Partnership.
Approach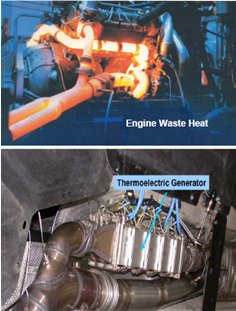 This activity is focused on developing system level vehicle applications of thermoelectrics and will address the systems architecture and design. Initial focus is on the use of available, best efficiency bulk thermoelectric materials for electric power generation and for more efficient passenger comfort conditioning. As potentially high efficiency advanced thermoelectric materials are developed, their use in these vehicle applications will be assessed. Technical barriers are addressed to enable thermoelectrics to begin making significant contributions in transportation beginning on or about 2011 and sustain an expanding usage beyond 2011. R&D efforts for widespread automotive applications are expected to improve the efficiency and cost of solid state thermoelectric energy conversion devices, factors that will greatly influence their commercial viability.