Wind Program Contacts and Organization
In late 2011, the Wind and Water Power Program implemented a programmatic and functional alignment. Focused on the advancement of a variety of wind and water power technologies, the program reallocated staff and realigned projects to advance land-based and offshore wind, marine and hydrokinetic, and hydropower energies. As the national leader in wind and water power, funding more than 500 research and development projects, the program will continue to collaborate with private industry, federal agencies, local communities, and research and development consortia.
Stay tuned as the Wind and Water Power Program delivers cutting-edge technology, facilitates information exchange and invests in necessary research to achieve diverse energy resources, increased reliability, and responsible deployment of wind and water energy systems.
Organization
The organizational chart shows the management of the wind team and cross-cutting functions in the program.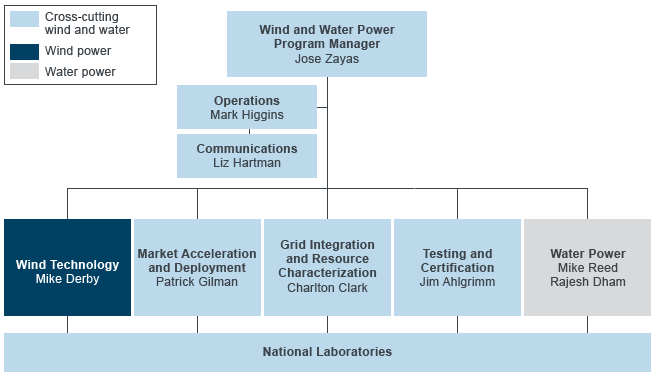 General Information
U.S. Department of Energy — Wind Program
Office of Energy Efficiency and Renewable Energy
1000 Independence Ave. S.W.
Washington, D.C., 20585
Phone: 202-586-5348
Program Contacts
Jose Zayas
jose.zayas@ee.doe.gov
Mark Higgins
mark.higgins@ee.doe.gov
Liz Hartman
liz.hartman@ee.doe.gov
Mike Derby
michael.derby@ee.doe.gov
Patrick Gilman
patrick.gilman@ee.doe.gov
Charlton Clark
charlton.clark@ee.doe.gov
Jim Ahlgrimm
jim.ahlgrimm@ee.doe.gov