Offshore Wind Technology
The Wind Program funds research nationwide to develop and deploy offshore wind technologies that can capture wind resources off the coasts of the United States and convert the wind out at sea into electricity. Offshore wind resources are abundant, stronger, and blow more consistently than land-based wind resources. Data on the resource potential suggest more than 4,000,000 megawatts (MW) could be accessed in state and federal waters along the coasts of the United States and the Great Lakes, approximately four times the combined generating capacity of all U.S. electric power plants.
The DOE Wind Program is working with the Department of the Interior's Bureau of Ocean Energy Management to advance a national strategy for offshore wind research and development. The DOE Wind Program is leading market analysis, technology development, and deployment projects that will overcome key barriers including the relatively high cost of energy, the mitigation of environmental impacts, the technical challenges of project installation, and grid interconnection.
Read a National Offshore Wind Strategy: Creating an Offshore Wind Industry in the United States.
Research Project Highlights
In 2012, the Department announced funding to seven Advanced Technology Demonstration projects totaling $168 million over six years. In 2011, the Department of Energy allocated $42 million dollars to 42 research and development projects in the Great Lakes, along the Atlantic Coast, and the Gulf of Mexico. These projects are defined under two categories: Technology Development and Market Barrier Removal.
DOE Awards Over $200 Million Dollars in Offshore Wind Research, Development, and Demonstration Grants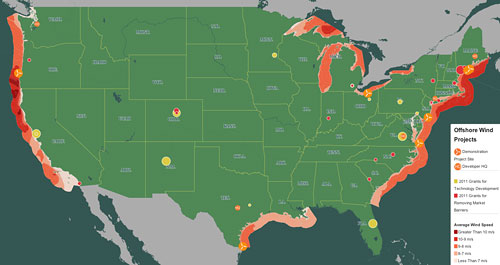 Advanced Technology Demonstration
The program recently announced seven technology demonstration partnerships with broad consortia that are developing breakthrough offshore wind energy generation projects. The primary goals of these projects are to achieve large cost reductions over existing offshore wind technologies and develop viable and reliable options for the United States. The demonstrations will help address key challenges associated with installing utility-scale offshore wind turbines, connecting offshore turbines to the power grid, and navigating new permitting and approval processes.
Each project will receive up to $4 million to complete the engineering, site evaluation, and planning phase of their project. Upon completion of this phase, the DOE Wind Program will select up to three of these projects to advance the follow-on design, fabrication, and deployment phases to achieve commercial operation by 2017. These projects will be eligible for up to $47 million over four years, subject to congressional appropriations.
The seven projects selected for the first phase of this six-year initiative are:
Baryonyx Corporation, based in Austin, Texas, plans to install three 6-megawatt direct-drive wind turbines in state waters near Port Isabel, Texas. The project will demonstrate an advanced jacket foundation design and integrate lessons learned from the oil and gas sector on hurricane-resistant facility design, installation procedures, and personnel safety.

Fishermen's Atlantic City Windfarm plans to install up to six direct-drive turbines in state waters three miles off the coast of Atlantic City, New Jersey. The project will result in an advanced bottom-mounted foundation design and innovative installation procedures to mitigate potential environmental impacts. The company expects this project to achieve commercial operation by the end of 2014.

Lake Erie Development Corporation, a regional public-private partnership based in Cleveland, Ohio, plans to install nine 3-megawatt direct-drive wind turbines on "ice breaker" monopile foundations designed to reduce ice loading. The project will be installed on Lake Erie, seven miles off the coast of Cleveland.

Seattle, Washington-based Principle Power plans to install five semi-submersible floating foundations outfitted with 6-megawatt direct-drive offshore wind turbines. The project will be sited in deep water 10 to 15 miles from Coos Bay, Oregon. Principle Power's semi-submersible foundations will be assembled near the project site in Oregon, helping to reduce installation costs.

Statoil North America of Stamford, Connecticut plans to deploy four 3-megawatt wind turbines on floating spar buoy structures in the Gulf of Maine off Boothbay Harbor at a water depth of approximately 460 feet. These spar buoys will be assembled in harbor to reduce installation costs and then towed to the installation site to access the Gulf of Maine's extensive deep water offshore wind resources.

The University of Maine plans to install a pilot floating offshore wind farm with two 6-megawatt direct-drive turbines on concrete semi-submersible foundations near Monhegan Island. These concrete foundations could result in improvements in commercial-scale production and provide offshore wind projects with a cost-effective alternative to traditional steel foundations.

Dominion Virginia Power of Richmond plans to design, develop, and install two 6-megawatt direct-drive turbines off the coast of Virginia Beach on innovative "twisted jacket" foundations that offer the strength of traditional jacket or space-frame structures but use substantially less steel.
Technology Development
The program invests in projects to develop the engineering modeling and analysis tools required to lower overall offshore facility costs and to design the next generation of innovative large-scale turbines optimized for installation and operation in the marine environment.
Offshore wind turbines are frequently located far from shore, face greater potential for corrosion from exposure to seawater, are only accessible by helicopter or boat, and therefore must be designed more robustly (i.e., requiring less maintenance) than land-based turbines due to the high costs of transporting maintenance crews to and from shore.
Projects awarded funding in 2011:
Eight projects received $6.7 million to advance the current state-of-the-art modeling and analysis tools for the design, performance assessment, system modeling, and cost assessment of offshore wind systems.

Seven projects received $3.4 million to develop conceptual designs and assessments of offshore wind plant systems that enhance energy capture, improve performance and reliability, and reduce the cost of energy from integrated wind plant systems.

Four projects received $15.3 million to research and develop innovative rotor and control systems designs for advanced components and integrated systems to reduce capital costs of these systems by up to 50%.
Market Barrier Removal
The program invests in projects to remove market barriers that limit the deployment of offshore wind in the nation's coastal and Great Lakes regions.
Projects awarded funding in 2011:
One project received $510,000 to reduce financing costs and increase investor confidence by supporting an offshore wind market analysis to inform stakeholder decision making regarding individual projects, industry issues, and energy policy. Read the report resulting from this grant.

Three projects received $5.7 million to expedite the permitting process by performing ecological studies and predictive modeling and validating innovative technologies for avian and bat studies. Read the report resulting from this grant.

Two projects received $650,000 to assess the current domestic supply chain infrastructure and recommend strategies for national manufacturing infrastructure development to support offshore wind deployment.

Four projects received $2.5 million to study and plan for the integration of offshore wind energy into the electrical transmission and grid interconnection, thereby increasing technical viability of commercial-scale offshore wind integration.

Four projects received $1.2 million to support the assessment of ports, vessels, and operations that will be involved with offshore wind energy efforts.

Eight projects received $5.8 million to develop an accessible network of information on subjects including U.S. offshore wind resources, design requirements for offshore wind turbines, and environmental conditions affecting offshore wind energy systems.

One project received $500,000 to evaluate the potential effects of offshore wind energy facilities on electronic navigation, detection, or communication equipment such as airborne radar, Global Positioning Systems (GPS), shipboard radios, and SONAR (Sound Navigation and Ranging).
Building on advancements that have brought tens of thousands of jobs to the nation's land-based wind industry, as well as the technological and market advancements being made by the DOE Wind Program and its partners under the National Offshore Wind Strategy, these offshore wind research, development, and demonstration projects will catalyze the development of a new offshore wind industry in the United States while increasing our domestically-sourced power supply.