U.S. Department of Energy - Energy Efficiency and Renewable Energy
Wind Program
A New Vision for U.S. Wind Power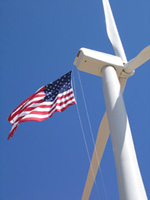 The U.S. Department of Energy (DOE) Wind Program, in close cooperation with the wind industry, is launching a new initiative to revisit the findings of the 2008 DOE 20% Wind Energy by 2030 report, and to develop a renewed vision for U.S. wind power research, development, and deployment. Included in this effort will be:
A characterization of industry progress and how recent developments and trends impact the 2008 conclusions
A discussion of the costs and benefits to the nation arising from more wind power
A roadmap addressing the challenges to achieving high levels of wind within a sustainable national energy mix.
Objectives
In addition to documenting and analyzing the current status of wind technologies and the wind industry, the objectives of the initiative are to:
Provide leadership in development of a cohesive long-term vision for the benefit of the broad U.S. wind power community
Analyze a range of aggressive but attainable industry growth scenarios
Provide best available information to address stakeholder concerns
Provide objective and relevant information for use by policy and decision makers.
Wind Vision Presentation at WINDPOWER
Wind Program Director Jose Zayas kicked off the development process for the program's new wind vision during his speech at the American Wind Energy Association's WINDPOWER Conference in Chicago in May. Zayas' speech was followed by a panel discussion of senior leaders from both the wind industry and nongovernmental organizations (NGOs) that highlighted the importance of developing a long-term wind vision for the United States.
How to Get Involved
What do you think is important for the U.S. wind vision? Leave us a comment on our OpenEI community forum.