U.S. Department of Energy - Energy Efficiency and Renewable Energy
Weatherization & Intergovernmental Program
The National Training & Education Resource
The National Training & Education Resource (NTER) is an open source platform that serves learners by allowing them to acquire new skills at a time, place and pace that is convenient to them. Additionally, it serves instructors by providing a full range of instructional tools and an easy-to-use system for finding, creating, and modifying content.
NTER is designed to revolutionize how online training and education is delivered. By taking advantage of information technology and the latest learning science, instructors and teachers can create traditional, multimedia and 3D-enabled courses for students. While this portal is not intended to replace the need for formal, hands-on training or instructor-led classes, it can enhance or augment the training by providing authentic challenges in interactive 3D worlds. The NTER platform can be used to provide students and individuals with problem-centered learning, alternative approaches to learning, varied and contrasting examples, just-in-time learning, and opportunities for practice and skills refreshment.
About NTER
NTER is an open source platform that will address the following issues:
Reduce the cost for organizations and agencies to distribute training and educational materials online by developing a robust open source web-based training platform
Provide open source tools to allow teachers to create immersive and interactive 3D scenarios that run in a web browser
Integrate the fractured education space by providing a peer-to-peer like environment in which content can be found by students, instructors, and agencies across domains
NTER Technology
NTER courses cover a wide range of topics through a flexible and adaptive learning platform. With the built-in Sharable Content Object Reference Model (SCORM) editor, courses can be created or customized to meet the needs of individuals. In addition, this tool allows authors to reuse existing content (license permitting), further reducing the cost of developing new materials. For example, a weatherization course could be modified for the energy retrofit market by replacing residential-specific content with the appropriate commercial building information.
The NTER platform provides a full set of tools including course authoring, a 3D world builder, a traditional learning and content management system (LCMS), and support for multiple content types including images, text, multimedia, and 3D, which can all be used within a single course.
The current version of the system, accessible via the NTER site, features an updated portlet-driven user interface (powered by the Liferay CMS) and a distributed backend.
NTER uses open-source systems and accessible standards (RSS, modified Ilias learning management system, and Google's O3D). This approach allows the broader community to contribute to the future development of this resource. In addition, the Kuda world creator, which allows users to make complex 3D simulations out of Collada-based 3D models, is being developed to support WebGL. The 3D world builder and tools are available from the Kuda Project page.
The current proposed system architecture is below. Note that the existing system NWTP makes up the bottom right-hand side and provides key LCMS functionality. Additionally, peer review, mobile applications, and Web 2.0 features such as user comments and communication tools will be made available in future releases.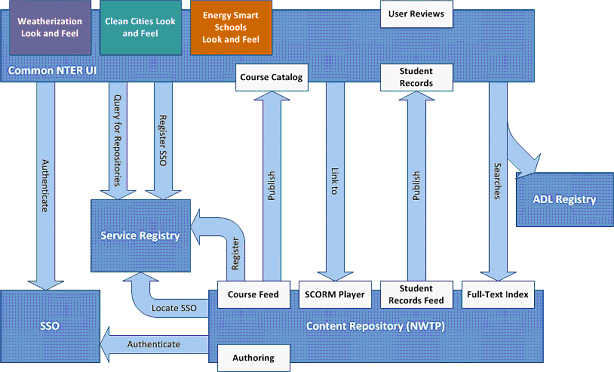 License
NTER is open source and Licensed under the GPL v2. Source code will be released once the system is made publicly available.
For more information on the system or to learn more about collaborating with the U.S. Department of Energy through open source, please contact: support@nterlearning.org
NTER is designed to work with Internet Explorer 8+, Firefox 3.5+, Safari, and Chrome. The 3D worlds will require the O3D plug-in, or a WebGL compatible browser. Some content may require Flash for viewing.