On-Bill Repayment Programs
The utility or some other entity (such as a third party financial institution) incurs the cost of the upgrade and the customer repays the investment through a charge on their monthly utility bill. This eliminates the upfront cost to the consumer for clean energy improvements by financing all costs not covered through rebates. These programs stretch out the financing costs over a sufficiently long period to make the repayments less than the savings. On-bill repayment allows for a streamlined process as utilities already have a billing relationship with their customers, as well as access to information about their energy usage patterns and payment history.
There are two distinct types of on-bill repayment programs — on-bill loans and on-bill tariffs.
On-bill loans function like personal or business loans and when the customer moves they must repay the full loan. Sempra Utilities and United Illuminating have on-bill loan programs for the MUSH and small business markets, and Manitoba Hydro has a program that serves the residential market. On-bill tariffs are actually attached to the meter, so that when a customer moves, the next customer at that meter continues to repay the financing. On-bill tariffs are significantly more complicated to set up, but they allow a longer financing term.
On-bill tariffs are one of the few financing options that address the split incentive issue for rental properties where the tenant pays the utility bill; Midwest Energy's How$mart program is an example of an on-bill tariff program.
While electric utilities and natural gas companies typically run on-bill programs, the opportunity for recipients of SEP and EECBG funding is to capitalize new on-bill loan funds or provide credit enhancement for existing on-bill loan funds. There are a couple issues that local government should be aware of when considering providing support to an on-bill program. First, changing the billing system to allow for on-bill repayment appears to be difficult for some utilities. Second, repayment allocation (i.e., who gets paid first) is an issue when customers partially pay their bills. When using a third party source of capital for the program, the utility usually covers the gas or electric charge first, increasing the risk to the lender, which is why credit enhancement is useful to attract private capital.
Despite these challenges, on-bill repayment offers one of the most elegant solutions to energy financing as the savings are on the same bill as the repayment. On-bill repayment works best when there is a cooperative utility, and so far has had the best results from programs serving the small commercial and MUSH (municipality, university, school, hospital) markets.
Transaction Points
An on-bill loan program lends itself well to the MUSH and small/medium commercial markets for upgrades with shorter financing terms; it may also work in the residential market but there is less experience there. On-bill tariffs will work well for more comprehensive retrofits that require a longer payback, and for rental properties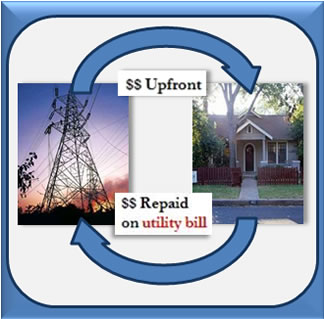 Advantages
Disadvantages

+ Savings paired directly with repayment on the same bill
+ Can use capital from a variety of sources
+ Can be structured to meet the needs of different markets
+ Provides a secure revenue stream since failure to pay is often tied to disconnection
+ Can use past bill repayment as a proxy for credit
+ Allows for longer term investments and can address rental properties (on-bill tariff only)

— Utilities are often reluctant to take on role of financing entity; potential exposure to consumer lending laws and alterations to billing systems are required.
— Can be extremely complicated to setup (on-bill tariff especially)
— Limited to shorter term financing (on-bill loan only)
— Businesses or homeowners must pay off entire loan upon sale of property, which could result in not all of the energy savings being realized (on-bill loan only)
Resources

Energy Efficient Mortgages