U.S. Department of Energy - Energy Efficiency and Renewable Energy
WIP – Technical Assistance Resources
Third-Party Loans With Credit Enhancements: Loan Loss Reserves and Interest Rate Buy Downs
Third party loans are originated and serviced through an entity other than the government, usually banks or other financial institutions.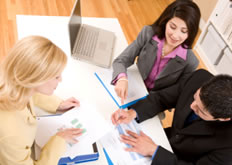 These loans can be structured in many different ways and often look like commercially-available loan products, but with more attractive terms. These loans might be structured as a short term, unsecured personal or business loan, or as a longer term loan secured with a lien or other claim on the property being improved. Some third party programs allow for on-site approval of unsecured financing that can enable the building owner to quickly replace equipment. These loans can also help full service contractors close a deal more easily on the spot.
One reason for the appeal of third party programs is that financial institutions already have the expertise in underwriting and navigating consumer lending laws. Few government entities have the staff need to make loans directly to individuals.
Transaction Points
Third party programs can be structured to address quick equipment changes, or to address larger-scale retrofits — but one program will likely not be able to address both unless several distinct products are created and tailored for specific uses and specific market segments.
Advantages
Disadvantages

+ Very flexible; can be structured to meet specific program goals
+ Allows government entities to work with financial institutions that have greater lending expertise
+ Leverages private capital, especially if it stimulates investment that would not have occurred otherwise

— For secured programs, must conduct rigorous credit analysis on borrower's ability to pay
— Lenders will often reject a significant percentage of applicants during underwriting unless otherwise protected against loss
— Costly collateral or security may be required from borrower
Resources
Past Webcast Presentations
Below are presentations from previous Webcasts. The presentations are available as Adobe Acrobat PDFs. The audio files are available as MP3 files. Download Windows Media Player.

Energy Savings Performance Contracting