U.S. Department of Energy - Energy Efficiency and Renewable Energy
Advanced Manufacturing Office
About Research & Development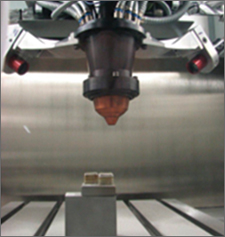 Next-generation manufacturing technologies will transform industry and open new markets in the United States and around the world. The Advanced Manufacturing Office (AMO) supports Research and Development on technology projects that will help manufacturers become more robust, adaptable, profitable, and globally competitive.
AMO R&D investments move emerging technology along the innovation pipeline through what is referred to as a technology's "Valley of Death," a span of time from applied R&D to full manufacturing-scale demonstration. In addition, AMO cofunds the development of collaborative communities — like Manufacturing Demonstration Facilities (MDFs) and Hubs — that share manufacturing infrastructure and facilities devoted to targeted technical areas.
Investment and Management
R&D projects are competitively selected based on their potential to improve manufacturing materials and process technologies and to save energy across the product life cycle. Working with industry stakeholders, universities, laboratories, and other programs and agencies, AMO also invests in cross-cutting technologies to benefit a broad range of manufacturers.
Pre-competitive projects emphasize the innovative capacity of small and medium enterprises (SMEs) and strengthen the vertical integration and energy performance along supply chains.

R&D projects cover innovation stages that involve significant technical risks – from applied research through commercial systems integration.

Projects have an average duration of 2 to 4 years and must meet specific performance milestones which maximize the likelihood of successful outcomes and market adoption.

Collaborative R&D teams draw on the diverse strengths of industry, academia, the national laboratories and others to develop technology solutions and share the costs and risks of research.
Infrastructure for Innovation
AMO also supports precompetitive, shared facilities with the potential to reduce technical risk and transform U.S. manufacturing.
Resources for infrastructure development are leveraged with industry, universities, non-profits, other DOE programs, the Departments of Defense and Commerce, other federal agencies, and other organizations.