About SEE Action
What is the Energy Efficiency Opportunity?
Energy efficiency represents one of our nation's largest untapped energy resources.
Investing in efficiency creates jobs and strengthens economic competitiveness by lowering the cost of living and doing business.
Energy efficiency can also:
Help consumers save money
Reduce the need for new transmission and distribution infrastructure costs
Improve localized system reliability
Provide significant public health and environmental benefits.
Numerous studies have shown that investing in cost-effective energy efficiency improvements could save hundreds of billions of dollars nationally over the next 10 to 15 years.1, 2
State and local energy efficiency programs and policies are critical to capturing the benefits from this largely untapped resource.
The State and Local Energy Efficiency Action Network (SEE Action) is a state- and local-led effort facilitated by the U.S. Department of Energy and the U.S. Environmental Protection Agency to take energy efficiency to scale.
Composed of more than 200 leaders from state and local governments, associations, businesses, non-government organizations, and their partners, SEE Action is working toward a goal of achieving all cost-effective energy efficiency by 2020.
SEE Action offers information resources and technical assistance to the following state and local decision makers on successful approaches to energy efficiency policies and programs.
State and local utility regulators who can promote energy efficiency to ensure reliable, affordable energy for ratepayers
State and local policymakers including governors, legislators, mayors and county officials, who can implement effective energy efficiency policies and programs for their communities
State energy and air officials who can develop and implement cost-effective energy efficiency programs to realize energy, cost, and emissions savings
Partners and implementers including utilities and other energy efficiency program administrators, financial institutions, energy services companies, industrial facility and commercial building owners, and many others.
SEE Action's leadership is composed of an Executive Group and eight policy and program working group co-chairs who work toward achieving our nation's efficiency potential.
Download the SEE Action fact sheet for more information.
Executive Group
The SEE Action Executive Group members are leaders from across the country who provide visionary leadership, strategic direction, and drive to ensure SEE Action reaches its goal.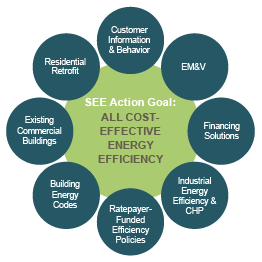 Working Groups
SEE Action's working groups provide information resources to state and local decision makers on successful design and implementation of energy efficiency policies and programs.
View the working group members.
National Action Plan for Energy Efficiency
SEE Action builds on the success of the National Action Plan for Energy Efficiency, a private-public initiative to create a sustainable, aggressive national commitment to energy efficiency through the collaborative efforts of gas and electric utilities, utility regulators, and other partner organizations. National Action Plan reports, guides, tools, and factsheets are available to help state utility commissions and utilities understand the options for making greater investments in energy efficiency through ratepayer-funded programs.
1. National Action Plan for Energy Efficiency. 2008. National Action Plan for Energy Efficiency Vision for 2025: A Framework for Change. www.epa.gov/eeactionplan.
2. McKinsey Global Energy and Materials. 2009. Unlocking Energy Efficiency in the U.S. Economy. www.mckinsey.com/Client_Service/Electric_Power_and_Natural_Gas/Latest_thinking/Unlocking_energy_efficiency_in_the_US_economy.