Fact #265: April 28, 2003
State Average Fuel Prices
The American Automobile Association tracks gasoline and diesel prices across the nation and publishes state averages. The 10 states with the highest prices are shown in red, the 10 states with the lowest prices are shown in blue. Prices are as of April 22, 2003.
Regular Grade Gasoline Price per Gallon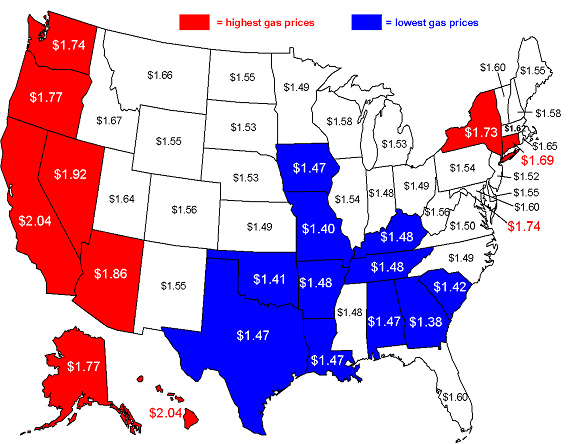 Diesel Price per Gallon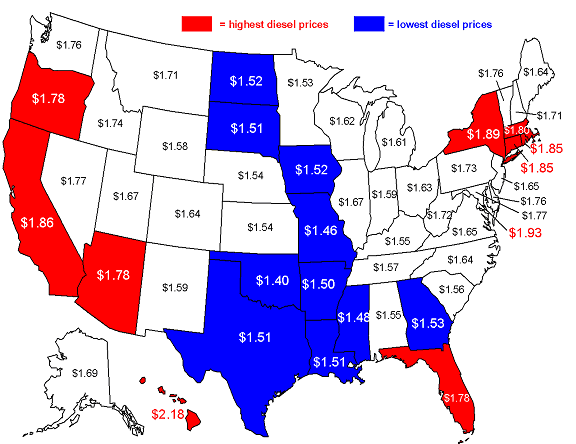 Supporting Information
Average Fuel Prices by State (4/22/03)
(sorted by fuel price, ascending)
Regular Grade Gasoline
Diesel
State
($/gal)
State
($/gal)
Georgia
$1.377
Oklahoma
$1.395
Missouri
$1.404
Missouri
$1.461
Oklahoma
$1.409
Mississippi
$1.481
South Carolina
$1.424
Arkansas
$1.501
Iowa
$1.467
South Dakota
$1.505
Texas
$1.469
Texas
$1.505
Alabama
$1.471
Louisiana
$1.506
Louisiana
$1.474
Iowa
$1.524
Tennessee
$1.475
North Dakota
$1.524
Arkansas
$1.479
Georgia
$1.530
Kentucky
$1.479
Minnesota
$1.531
Mississippi
$1.482
Kansas
$1.535
Indiana
$1.484
Nebraska
$1.540
Kansas
$1.485
Alabama
$1.551
Minnesota
$1.488
Kentucky
$1.554
North Carolina
$1.491
South Carolina
$1.563
Ohio
$1.494
Tennessee
$1.565
Virginia
$1.501
Wyoming
$1.579
New Jersey
$1.524
Indiana
$1.589
Nebraska
$1.525
New Mexico
$1.590
South Dakota
$1.533
Michigan
$1.612
Michigan
$1.534
Wisconsin
$1.616
Pennsylvania
$1.535
Ohio
$1.632
Illinois
$1.539
North Carolina
$1.635
Maine
$1.546
Colorado
$1.637
Delaware
$1.549
Maine
$1.642
North Dakota
$1.552
Virginia
$1.646
New Mexico
$1.553
New Jersey
$1.649
Wyoming
$1.554
Illinois
$1.667
West Virginia
$1.557
Utah
$1.673
Colorado
$1.563
Alaska
$1.691
New Hampshire
$1.577
New Hampshire
$1.706
Wisconsin
$1.583
Montana
$1.711
Florida
$1.597
West Virginia
$1.716
Maryland
$1.597
Pennsylvania
$1.731
Vermont
$1.603
Idaho
$1.735
Massachusetts
$1.617
Washington
$1.755
Utah
$1.639
Delaware
$1.759
Rhode Island
$1.646
Vermont
$1.763
Montana
$1.659
Maryland
$1.766
Idaho
$1.666
Nevada
$1.769
Connecticut
$1.687
Florida
$1.775
New York
$1.731
Arizona
$1.779
Washington
$1.735
Oregon
$1.779
District of Columbia
$1.740
Massachusetts
$1.797
Oregon
$1.768
Rhode Island
$1.846
Alaska
$1.772
Connecticut
$1.851
Arizona
$1.857
California
$1.861
Nevada
$1.920
New York
$1.885
Hawaii
$2.035
District of Columbia
$1.929
California
$2.043
Hawaii
$2.180

Source: American Automobile Association, Daily Fuel Gauge Report