Fact #463: April 2, 2007
Transportation is a Large Share of Average Household Expenditures
After housing, transportation was the largest single expenditure for the average American household in 2005. Within the transportation category, expenditures for vehicles and for gasoline and oil were the highest.
Average Annual Household Expenditures, 2005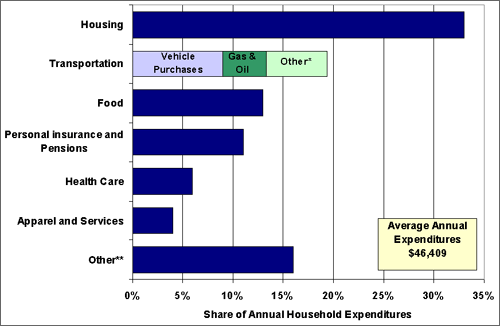 Supporting Information
Average Annual Household Expenditures, 2005
Expenditure Category
Share of Household
Expenditures
Housing
33%
Transportation
Vehicles 7.6%
Gasoline and Motor Oil 4.3%
Other* 6.1%
18%
Food
13%
Personal Insurance and Pensions
11%
Health Care
6%
Apparel and Services
4%
Other**
16%
Average Annual Expenditures
$46,409

Source: U.S. Department of Labor, Bureau of Labor Statistics, 2005 Consumer Expenditure Survey.
* Other transportation expenditures include vehicle expenses, such as insurance, maintenance, and parts, and public transportation expenses.
** Other household expenditures include entertainment, personal care products and services, education, tobacco products and smoking, and miscellaneous.
Return to 2007 Facts of the Week