Fact #482: August 13, 2007
Refinery Output by World Region
A barrel of oil can be made into a variety of petroleum products. Each region of the world refines oil into different fuels based on the regions' need. In 2006, 40% of the refinery output in North America was gasoline. Europe and the Pacific region produce a greater share of diesel fuel from their refineries.
Refinery Output by World Region, 2006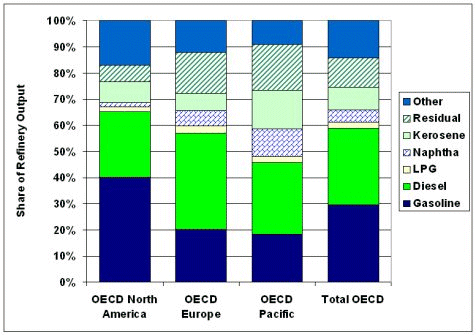 Note: The Other category includes white spirit, industrial spirit, lubricants, bitumen, paraffin waxes, tar, grease, olefins, and aromatics.
OECD North America: Canada, Mexico, United States.
OECD Pacific: Australia, Japan, Republic of Korea, New Zealand.
OECD Europe: Austria, Belgium, Czech Republic, Denmark, Finland, France, Germany, Greece, Hungary, Iceland, Ireland, Italy, Luxembourg, Netherlands, Norway, Poland, Portugal, Spain, Sweden, Slovak Republic, Switzerland, Turkey, United Kingdom.

Supporting Information
Refinery Output by World Region, 2006
Product
OECD North America
OECD Europe
OECD Pacific
Total OECD
Gasoline
40.4%
20.3%
18.5%
29.6%
Diesel
24.7%
36.8%
27.3%
29.4%
Liquefied Petroleum Gases (LPG)
2.0%
2.7%
2.4%
2.3%
Naptha
1.6%
5.8%
10.5%
4.6%
Kerosene
8.0%
6.5%
15.0%
8.6%
Residual
6.3%
15.7%
17.4%
11.5%
Other
17.1%
12.3%
9.0%
14.0%

Source: International Energy Agency, Monthly Oil Survey, April 2007,
http://www.iea.org/Textbase/stats/surveys/oilsurv.pdf

Return to 2007 Facts of the Week