Fact #714: February 13, 2012
Light Truck Sales on the Rise
Light trucks sales have gained market share in relation to car sales from 1970. In 2001, light trucks outsold cars for the first time. Light truck sales reached a peak in 2004. By 2008, truck sales had declined and once again and neared parity with car sales. Beginning in 2009, truck sales have been on the rise and have exceeded car sales in 2010 and 2011.
U.S. Car and Light Truck Sales, 1970-2011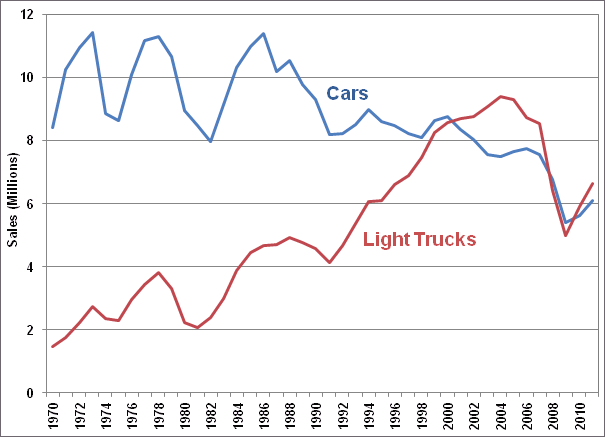 Supporting Information
Car and Light Truck Sales in the U.S., 1970-2011 (Millions)
Calendar Year
Cars
Light Trucks
Total Light Vehicles
1970
8.4
1.5
9.9
1971
10.2
1.8
12.0
1972
10.9
2.2
13.2
1973
11.4
2.7
14.2
1974
8.9
2.3
11.2
1975
8.6
2.3
10.9
1976
10.1
3.0
13.1
1977
11.2
3.4
14.6
1978
11.3
3.8
15.1
1979
10.7
3.3
14.0
1980
8.9
2.2
11.2
1981
8.5
2.1
10.5
1982
8.0
2.4
10.4
1983
9.1
3.0
12.1
1984
10.3
3.9
14.2
1985
11.0
4.5
15.4
1986
11.4
4.7
16.1
1987
10.2
4.7
14.9
1988
10.5
4.9
15.5
1989
9.8
4.8
14.5
1990
9.3
4.6
13.9
1991
8.2
4.1
12.3
1992
8.2
4.7
12.9
1993
8.5
5.4
13.9
1994
9.0
6.1
15.1
1995
8.6
6.1
14.7
1996
8.5
6.7
15.1
1997
8.2
6.9
15.1
1998
8.1
7.5
15.5
1999
8.6
8.3
16.9
2000
8.8
8.6
17.4
2001
8.4
8.7
17.1
2002
8.0
8.8
16.8
2003
7.6
9.1
16.6
2004
7.5
9.4
16.9
2005
7.7
9.3
17.0
2006
7.8
8.7
16.5
2007
7.6
8.5
16.1
2008
6.8
6.4
13.2
2009
5.4
5.0
10.4
2010
5.6
5.9
11.6
2011
6.1
6.6
12.7

Source: Ward's Communications