Fact #759: December 24, 2012
Rural vs. Urban Driving Differences
According to the National Household Travel Survey, those living in rural areas drive ten more miles in a day than those who live in cities. People living in the suburbs drive only about three to four more miles per day than those within the city. From 2001 to 2009, the total number of daily miles driven decreased by 12%, much of it due to decreases by the city and suburban drivers.
Average Daily Miles Driven (per Driver), 2001 and 2009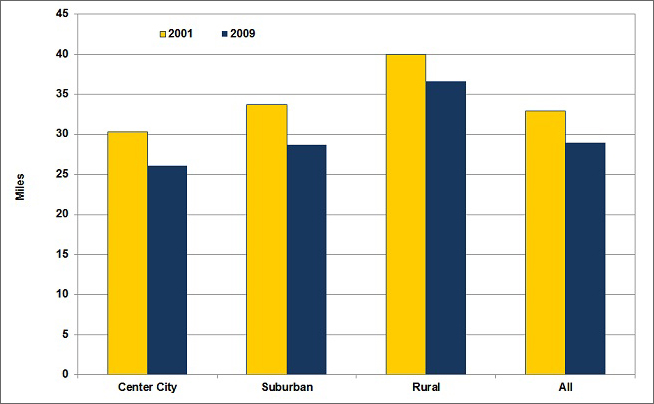 Supporting Information
Average Daily Miles Driven (per Driver), 2001 and 2009
Area
Miles
Percent Change 2001 - 2009
2001
2009
Center City
30.3
26.1
-14%
Suburban
33.7
28.7
-15%
Rural
40.0
36.6
-9%
All
32.9
29.0
-12%
Source: National Household Travel Survey