Fact #760: December 31, 2012
Commuting to Work, 1960-2010
The share of workers who commute to work in private vehicles rose from 64% in 1960 to a high of 87.9% in 2000, but dropped slightly to 86.4% in 2010. The number of people who worked at home continued gaining in share in 2010 to 4.1%. However this number is still less than that reported in 1960.
Share of Commuters by Travel Type, 1960-2010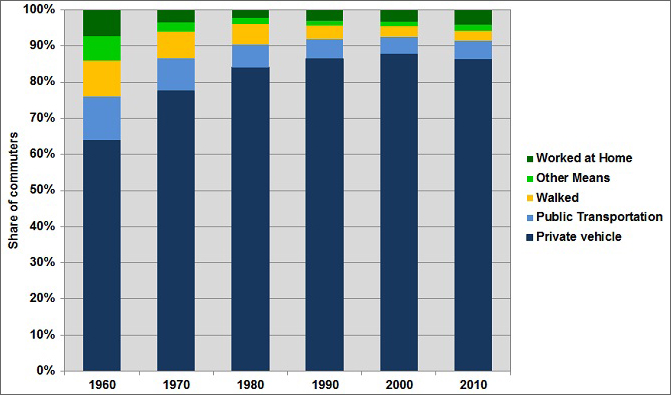 Supporting Information
Share of Commuters by Travel Type, 1960-2010
Travel Type
1960
1970
1980
1990
2000
2010
Private vehicle
64.0%
77.7%
84.1%
86.5%
87.9%
86.4%
Public Transportation
12.1%
8.9%
6.4%
5.3%
4.7%
5.1%
Walked
9.9%
7.4%
5.6%
3.9%
2.9%
2.8%
Other Means
6.8%
2.5%
1.6%
1.3%
1.2%
1.6%
Worked at Home
7.2%
3.5%
2.3%
3.0%
3.3%
4.1%
Total
100.0%
100.0%
100.0%
100.0%
100.0%
100.0%
Sources:
1980-1990 data – Provided by the Journey-to-Work and Migration Statistics Branch, Population Division, U.S. Bureau of the Census.
2000 data – U.S. Bureau of the Census, Journey to Work: 2000, Tables 1 and 2, 1990-2000, March 2004.
2010 data – U.S. Bureau of the Census, 2010 American Community Survey, Tables B08301 and S0802.
(Additional resources: U.S. Bureau of the Census)